Retail Online Banking
It's a convenient, simple and secure way to do your banking. You can do many of the day-to-day transactions you go to the bank for, but at times that are more convenient for you.
Guest, now that's convenience!
Our online banking service is a safe and secure site for you to conduct your banking business. Security is our main concern. You can rest assured that your data is handled with the utmost security. Your User ID and Password are required each time you enter our online banking service. To help speed up the application process you can enroll online.
Need help with an Online or Mobile Banking application? Check out Springs Valley's Digital Services Instructions here!
Just look at what you can do! With a simple point and click you'll be able to:
Review your account status and history on any of your deposit or loan accounts
Check your balance, see what checks have cleared
Print out a bank statement
Transfer funds between your accounts
eMail questions to the bank representatives at your convenience
Reorder checks
Stop payment of a check
Receive text or eMail alerts for account activity
Download data directly to most financial management software applications
*Subject to additional terms and conditions. Data rates may apply. Check with your mobile phone carrier for details.
eStatements
The quickest, most convenient way to receive your bank statements - eStatements! eStatements are an electronic version of your monthly paper statement delivered right to your eMail inbox, rather than through the U.S. Postal Service. They look just like your paper statements, contain the same information, and will arrive sooner than paper statements. In addition, eStatements are better for the environment because of the paper and printing saved.
Here's how it works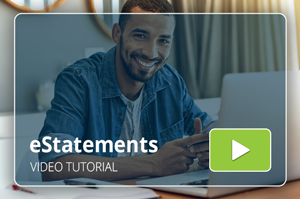 When your eStatement is ready, we'll send you an eMail with a secure link for retrieving your electronic statement. Because eStatements look exactly like the paper statements you have been accustomed to receiving, you'll find the quicker electronic version much more convenient. Plus, eStatements are FREE and available to you 24 hours a day, seven days a week!
If you would like to take advantage of the quickness and convenience of eStatements, click here for enrollment instructions or you can call us at 800.843.4947 or send us an eMail.
Retail Bill Pay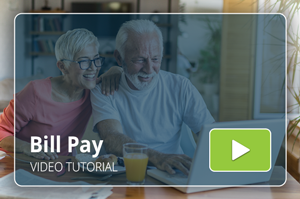 Say goodbye to check writing hassles and postage with Springs Valley Bank's online bill payment system. Retail Bill Pay offers unlimited bill pay transactions, ability to create reoccurring and on-demand payments, and the ability to import information into accounting systems. Enjoy this safe, fast, convenient way to manage your money.
AllData Personal Finance Manager®1
Provides an interactive view for you to analyze your financial portfolio to uncover new opportunities and make well-informed financial decisions.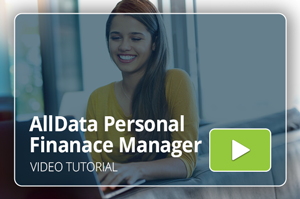 Financial Dashboard - Provide a consolidated view of online account balances across financial institutions as well as snapshots of current month cash flow, top expenses, budgets and goal status.
Transaction Management - Transactions are automatically categorized based on user preferences and built-in rules.
Budget and Goal Tracking - Monthly budgets and goals are automatically tracked against user-defined targets.
Reporting and Analysis - Charts, graphs and advanced search capabilities are available for those who want to create filtered reports for simplified and targeted transaction monitoring, or analyze their spending habits to set better budgets and goals.
Customized Alerts - System alerts proactively notify customers of unusual activity or changed status based on user-defined thresholds and preferences.
NotifiSM2
Receive Real-Time Alerts with NotifiSM
Alerts are published and processed in real time, based on user registration and delivery preferences. You choose what types of alerts to receive, how to receive those alerts (eMail, text, Online Banking, Mobile Banking), when to receive alerts and more.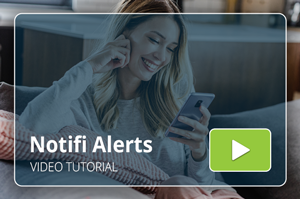 Free
Convenience
Peace of Mind
Greater Security
Reduce Risk of Fraud
Sign up for Notifi℠ through Springs Valley's Online or Mobile Banking today! To enroll, simply log on to Online or Mobile Banking. For Online Banking, Click Enroll, and specify how you would like to see your alerts. For Mobile Banking, Enable Push Notifications. You can also set up Do Not Disturb options for your alerts.
TransferNow®3
Enjoy an easy and secure way to make account-to-account transfers with TransferNow, our new inbound and outbound transfer service.
Through online and mobile banking, you can use TransferNow to transfer funds between your account(s). You can access TransferNow from your banking Transfer page by selecting "EXTERNAL TRANSFERS" and following the on-screen instructions to add and verify your accounts. With TransferNow, you have more flexibility and control over your money.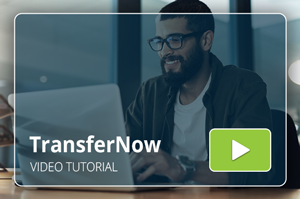 How quickly will my transferred funds appear in my account?
Springs Valley offers two transfer options: standard and next-day*.
Standard transfers arrive in the receiving account within three business days.
Next-day transfers will arrive in the receiving account on the next business day.
*There is a $5.00 fee per every TransferNow next business day inbound transfer and a $5.00 fee per every TransferNow next business day outbound transfer.
Credit SenseSM4
Credit SenseSM, powered by SavvyMoney®, is a FREE tool that provides you with ongoing access to your credit score, along with recommendations to improve it. This comprehensive service not only helps you stay on top of your credit score, it monitors your credit report and will send you alerts when something changes.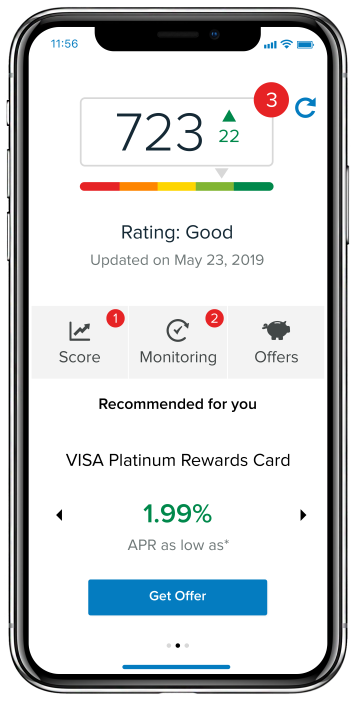 All you need to get started is a Springs Valley Bank account with access to Online Banking or Mobile Banking.
Receive instant credit score access and improvement tips.
Receive pre-qualified offers and savings opportunities.
Access to educational tools.
Credit monitoring and alerts (It's a "soft pull" on your credit report and does not affect your score).
Set credit GOALS and receive ongoing support and education to help you reach them.
How Do I Get My Score?
It's Easy!
Log in to your Online or Mobile Banking and click on the "Check Your Score" button.
You'll fill out a short form and answer some questions to identify yourself.
Telephone Banking
Touch Tone Banking: 877.286.7828
Access your Springs Valley Bank accounts from the convenience of a touch-tone telephone 24 hours a day, 7 days a week. To enroll, input your account number and use the last four digits of your social security number as the password.
Just look at what you can do! With the help of a touch-tone telephone you'll be able to:
Check balances on deposit and loan accounts
Transfer funds
Review prior transactions and deposits
Check status of a check
Review interest paid on loans and interest received on deposit accounts
Check last payment date and payment due date on loan accounts
1 AllData is a registered trademark of Fiserv, Inc. or its affiliates.
2 Message and data rates may apply. Notifi is a Service Mark of Fiserv, Inc., or it affiliates.
3 Message and data rates may apply. TransferNow is a Registered Trademark of Fiserv, Inc., or it affiliates.
4 Springs Valley Bank & Trust Company provides this service for information purposes only and does not have control over or endorse the information provided. The credit score provided is intended to help you understand the factors that affect your credit score, and ways you may be able to save money with Springs Valley Bank & Trust Company loan products. It is generally not used for loan approval purposes or for determining loan rates. Loan rates and approvals are based on information provided to the bank when you apply for a loan. The credit score found in the credit report may be different than the credit score you see here. The offers presented here are not offers to lend; normal underwriting criteria apply. Terms and conditions and offers are subject to change at any time. Date rates may apply. Check with your mobile phone carrier for details. Apple and the Apple logo are trademarks of Apple Inc, registered in the U.S. and other countries. App store is a service mark of Apple Inc. Android, Google Play, and the Google Play logo are trademarks of Google Inc.