Mobile Banking
Bank Where You Are - Try Springs Valley Mobile Banking Today! Keeping track of your finances just got a whole lot easier with Mobile Banking from Springs Valley Bank. You can now stay in constant contact with your finances all from the comfort of your mobile device.
Access to our Mobile Apps
Mobile Banking is a fast and secure way to access your Springs Valley Bank accounts from virtually any phone or mobile device. Mobile Banking is compatible with most mobile devices that can send and receive text messages and view web pages.
Download Apple Phone Download Android Phone
Need help with an Online or Mobile Banking application? Check out Springs Valley's Digital Services Instructions here!
*Subject to additional terms and conditions. Data rates may apply. Check with your mobile phone carrier for details.
Mobile Deposit
A feature of Springs Valley's mobile app, Mobile Deposit1 lets you use your mobile device to deposit checks wherever you are, 24/7. There's no need to go to a banking center or ATM, saving you time, and making depositing paper checks a quick and convenient experience. Mobile Deposit is secure, easy to use, and convenient.
Mobile Deposit is accessible through our iPhone, iPad, Android, and Amazon Kindle mobile applications.
Sign your name and write "For SVBT Mobile Deposit Only" within the endorsement area on the back of the check.
Take photos of the front and back of your check and submit. It's that easy.
Save time with fewer trips to an ATM or Bank.
Instant Balance
Check your balance at a glance. Want to take a quick peek at your account balance? The Instant Balance feature lets you view your account from the login screen of our mobile app - no password, no waiting.
Touch ID & Face ID
Sign in faster with Touch/Look2. A more convenient way to login to our mobile app with your fingerprint or facial recognition - no need for a password!
Mobiliti with CardValet
CardValet®3 manages the risk by allowing you to define when, where and how your cards can be used. Download our Springs Valley app or the CardValet app today for real-time transaction alerts.
Manage debit cards at the touch of a button.
Turn your debit card on and off.
Stay informed of debit card transactions.
Get real-time balances.
Establish transaction controls for dollar amount limits, merchant categories, and geographic locations.
Receive alerts when your debit card is used, approved, or exceeds the transactions controls set by you.
Credit SenseSM4
Credit SenseSM, powered by SavvyMoney®, is a FREE tool that provides you with ongoing access to your credit score, along with recommendations to improve it. This comprehensive service not only helps you stay on top of your credit score, it monitors your credit report and will send you alerts when something changes.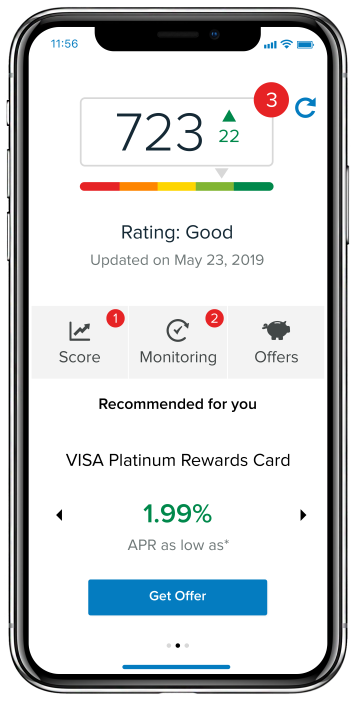 All you need to get started is a Springs Valley Bank account with access to Online Banking or Mobile Banking.
Receive instant credit score access and improvement tips.
Receive pre-qualified offers and savings opportunities.
Access to educational tools.
Credit monitoring and alerts (It's a "soft pull" on your credit report and does not affect your score).
Set credit GOALS and receive ongoing support and education to help you reach them.
How Do I Get My Score?
It's Easy!
Log in to your Online or Mobile Banking and click on the "Check Your Score" button.
You'll fill out a short form and answer some questions to identify yourself.
NotifiSM
Receive Real-Time Alerts with Notifi5
Alerts are published and processed in real time, based on user registration and delivery preferences. You choose what types of alerts to receive, how to receive those alerts (eMail, text, Online Banking, Mobile Banking), when to receive alerts and more.
Free
Convenience
Peace of Mind
Greater Security
Reduce Risk of Fraud
Sign up for NotifiSM through Springs Valley's Online or Mobile Banking today! To enroll, simply log on to Online or Mobile Banking. For Online Banking, Click Enroll, and specify how you would like to see your alerts. For Mobile Banking, Enable Push Notifications. You can also set up Do Not Disturb options for your alerts.
TransferNow®
Enjoy an easy and secure way to make account-to-account transfers with TransferNow6, our new inbound and outbound transfer service.
Through online and mobile banking, you can use TransferNow to transfer funds between your account(s). You can access TransferNow from your banking Transfer page by selecting "EXTERNAL TRANSFERS" and following the on-screen instructions to add and verify your accounts. With TransferNow, you have more flexibility and control over your money.
How quickly will my transferred funds appear in my account?

Springs Valley offers two transfer options: standard and next-day*.

Standard transfers arrive in the receiving account within three business days.
Next-day transfers will arrive in the receiving account on the next business day.
*There is a $5.00 fee per every TransferNow next business day inbound transfer and a $5.00 fee per every TransferNow next business day outbound transfer.
Text Banking
YOUR ACCOUNT BALANCES, TRANSACTION HISTORY, AND LOCATION INFORMATION ARE JUST A TEXT AWAY!
Springs Valley offers their customers mobile access to their account information over SMS Text Messaging. Text Banking7 allows you to quickly request and receive your account balances, recent transaction history, and location information via your mobile device's SMS Text Message service using a short code and a set of commands.
We won't charge you, but standard carrier fees for text messaging may apply. Please check with your wireless carrier if you aren't sure what fees apply when you send and receive text messages.
SPRINGS VALLEY'S TEXT SHORT CODE— 99588
TEXT COMMANDS
*If your response message ends with "Reply NEXT or MORE", text NEXT or MORE to view more information.
BAL – Summary of available balances for all account(s)
HIST + ACCOUNT NICKNAME (ex. HIST 1) – Summary of recent transactions for specified account
BRANCH + ZIP - Shows list of banking center location(s) by zip code
ATM + ZIP – Shows list of ATM location(s) by zip code
HELP – Help content for text message banking service
STOP - Cancel text message banking service
1 Mobile deposits captured during a business day (M-F between 8:00 am to 5:00 pm EST), will be available same business day. Once the mobile deposit is received, our team will review and either approve or deny the transaction. If approved, your money will be available instantly. Subject to verification and not available for immediate withdrawal. Deposit limits and other restrictions apply. Springs Valley Mobile Deposit is available for select mobile devices. Download the Springs Valley Mobile App. Message and data rates may apply. Subject to eligibility and further review. Deposits are subject to verification and not available for immediate withdrawal. Deposit limits and other restrictions apply. See svbt.bank/MobileDeposit for details and eligible mobile devices.
2 Touch ID only available for iPhone 6 and up. Face ID only available for iPhone X and up.
3 Available for Apple iOS and Google Android devices. CardValet is a registered trademark of Fiserv, Inc. or it affiliates.
4 Springs Valley Bank & Trust Company provides this service for information purposes only and does not have control over or endorse the information provided. The credit score provided is intended to help you understand the factors that affect your credit score, and ways you may be able to save money with Springs Valley Bank & Trust Company loan products. It is generally not used for loan approval purposes or for determining loan rates. Loan rates and approvals are based on information provided to the bank when you apply for a loan. The credit score found in the credit report may be different than the credit score you see here. The offers presented here are not offers to lend; normal underwriting criteria apply. Terms and conditions and offers are subject to change at any time. Date rates may apply. Check with your mobile phone carrier for details. Apple and the Apple logo are trademarks of Apple Inc, registered in the U.S. and other countries. App store is a service mark of Apple Inc. Android, Google Play, and the Google Play logo are trademarks of Google Inc.
5 Message and data rates may apply. Notifi is a Service Mark of Fiserv, Inc., or it affiliates.
6 There is a $5.00 fee per every TransferNow next business day inbound transfer and a $5.00 fee per day every TransferNow next business day outbound transfer. Message and data rates may apply. TransferNow is a Registered Trademark of Fiserv, Inc., or it affiliates.
7 Message and data rates may apply. To stop the program, text "STOP" to 99588. You'll receive a one-time opt-out text message, after that, you will not receive any future messages.